We are stoked to announce the sixth event of the Guardians of the Ice/Banded Peak Brewing Speaker Series: Mount Castleguard.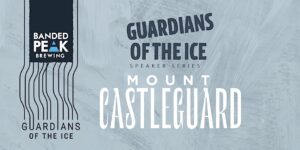 Join us for another exciting evening of candid conversation, laughs and learning, beer tasting, and Q&A in support of the Columbia Icefield. #CraftedForAdventure
September 29, 2023 at 6:30 pm
Ticket price of $20 includes a donation to Guardians of the Ice
cSPACE Studio Theatre (@cspace.mardaloop) 1721 – 29th Avenue SW, Calgary AB
Tickets: https://www.eventbrite.ca/e/banded-peak-x-guardians-of-the-ice-speaker-series-mount-castleguard-tickets-703666343977?aff=oddtdtcreator
Our Host will be our own @jim_elzinga, legendary Alpinist and @guardiansoftheice Founder.
Featured Keynote Speakers:
IAN WELSTED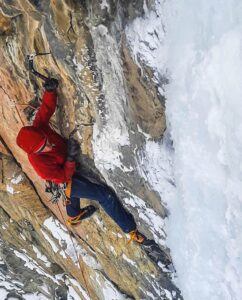 is one of Canada's leading alpine climbers, with experience in many of the world's Great Ranges. Based in Canada's mountains, he's repeated and established some of the most remote and esthetic climbs on the Columbia Icefield. He has pushed the limits above glaciers on North America's highest mountains. And established a route on a Himalayan peak, K6 West at a grade of WI5 M6 over 1,800 metres with Raphael Slawinski. The ascent earned them both the prestigious climbing award known as the Piolets d'Or.
Closer to home, he completed the first complete traverse of the north ridge of North Twin, which is a four-kilometre 5.7 with 1,300 metres of elevation gain. He also soloed the Emperor Ridge on Mount Robson and still holds the speed record. On Mount Waddington north of Vancouver, he made the first ascent of Epaulette Ridge, a 1,600-metre 12-kilometre 5.7.
While he's most comfortable on long and complicated climbs in the alpine, he's also a highly experienced steep ice climber and technical rock climber. His knowledge of mountains far and wide makes him a valuable member of the Canadian climbing community. When not chasing remote climbs, he can be found guiding and instructing as an alpine guide with the Association of Canadian Mountain Guides.
He will present photos and videos from K2, The Charakusa Valley, The Emperor Ridge, The North Twin, and many other mind-numbing and hand-freezing venues.
DR. ALISON CRISCITIELLO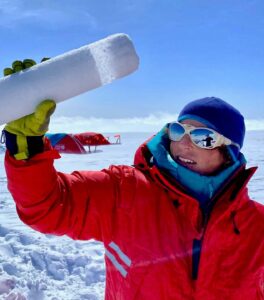 is an ice-core scientist and high-altitude mountaineer. National Geographic Explorer, Fellow of the Royal Canadian Geographical Society, and Director of the Canadian Ice Core Lab at the University of Alberta. In addition to her academic work, she is a co-founder of Girls on Ice Canada and an avid adventurer and mountain climber.
Canadian Geographic Magazine: "Alison Criscitiello is redefining the term explorer."
To National Geographic Explorer Alison Criscitiello, there is nothing more thrilling than cold, high-altitude places. As a glaciologist and ice core scientist, her work has taken her from the High Arctic to the Antarctic in search of secrets about the Earth's climate that remain hidden deep within the ice. As a professional high-altitude mountaineer, she also seeks out chilly weather and big peaks for fun.
With support from NatGeo, Alison tackled perhaps her most daring feat yet: Canada's highest point, Mount Logan. Located in the Yukon Territory, Mount Logan is thought to house some of the oldest ice on Earth. Glaciers and ice sheets there contain a wealth of data about the history of the region and its climate—valuable information that Criscitiello has dedicated years to uncovering and interpreting.
Alison will be sharing more about her Mount Logan experience along with her most recent adventures: exploring for drill sites on the Muller Icecap on Axel Heiberg Island in the high arctic, along with drilling on the Greenland Ice Sheet with a Danish team.
Banded Peak Brewing: Guardians of the Ice Series Live Stream Event
Calgary, Alberta: On Friday, March 26, 2021, Banded Peak Brewing went live with their first of twelve Guardians of the Ice speaker series announcing the launch of a new partnership with Guardians of the Ice. Guardians of the Ice is a non-profit organization that works to inspire dynamic environmental stewardship on behalf of the rapidly retreating Columbia Icefield (Canadian Rockies) and its watersheds, leading to a low-carbon future for the whole planet. The first beer of Guardians of the Ice collection, Mount Columbia West Coast IPA, is named for the highest peak at the Columbia Icefield. Subsequent beers will be named for the eleven other peaks that stand as Guardians around the Icefield.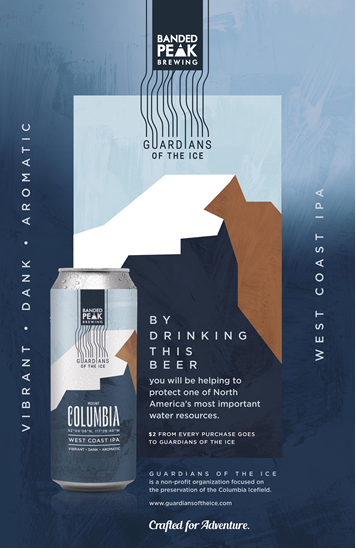 Our joint launch with Banded Peak Brewing of the Guardians of the Ice Speaker Series, with the release of the first GOTI series beer was a great success. Featured speakers extreme skier Dylan Cunningham and Banded Peak brewer Mark Zabot were entertaining and informative. Our genial host Jim Elzinga was gracious and welcoming, providing the perspective of a senior statesman and standing in for the urgent concerns that Guardians of the Ice was formed to champion.
Mount Columbia West Coast IPA is the first of the IPA series. $2 from every four-pack sold is donated to support Guardians of the Ice and their Columbia Icefield program. By drinking the GOTI series you are helping protect one of North America's most important water resources. Orders can be placed online www.bandedpeakbrewing.com , purchased at the Banded Peak Taproom, or local liquor stores across Alberta.
"Climate change is occurring in our backyard and we can literally see the effect it is having on our environment. We feel that this is an important partnership that promotes education to support and encourage climate stewardship. The Rockies are the source of so many different important aspects of all our lives from recreation to the water we drink and ultimately the beer we make. Protecting that should be a priority; definitely one we should be well educated on." Matt Berard, Founder, Banded Peak Brewing.
Event: Guardians of the Ice Speaker Series & IPA Launch Live Stream
Streamed: Friday, March 26, 2021 at 7pm MST.
Banded Peak YouTube Channel: https://www.youtube.com/channel/UCDrdJtCh8g5aEd_iYeZaq5Q

CELEBRATING OUR MAY 27, 2020 LIVE WEBINAR EVENT!
On May 27th, 2020 we enjoyed a truly inspiring and engaging live webinar with the generous participation of our four "luminaries." More than 2,000 people registered; students and teachers (and others) from across Alberta and beyond.
Check out this 7 minute video clip of Bob Sandford's moving and inspiring opening remarks. He has a poetic and positive way of expressing his broad and deep understanding of the regional and worldwide significance of climate change impacts on the Columbia Icefield and vital water supplies.
A live webinar with four luminaries of climate/ice/water science May 27, 2020, 11:00 am Mountain Time, featuring:
Bob Sandford, Chair, Water Security UN University Institute for Water and Health
Alison Criscitiello, PhD, Glaciologist, Director of the Canadian Ice Core Archive at the University of Alberta
Julie Vano, PhD, Research Director, Aspen Global Change Institute
Caroline Aubry-Wake, Global Institute for Water Security, University of Saskatchewan
Hosted by Alberta Tomorrow and Guardians of the Ice with the support of Alberta Ecotrust Foundation.
For a fuller experience of the interactive webinar, to hear from the other three scientists and their responses to questions from the students click here