Banded Peak Brewing: Guardians of the Ice Series Live Stream Event
Calgary, Alberta: On Friday, March 26, 2021, Banded Peak Brewing went live with their first of twelve Guardians of the Ice speaker series announcing the launch of a new partnership with Guardians of the Ice. Guardians of the Ice is a non-profit organization that works to inspire dynamic environmental stewardship on behalf of the rapidly retreating Columbia Icefield (Canadian Rockies) and its watersheds, leading to a low-carbon future for the whole planet. The first beer of Guardians of the Ice collection, Mount Columbia West Coast IPA, is named for the highest peak at the Columbia Icefield. Subsequent beers will be named for the eleven other peaks that stand as Guardians around the Icefield.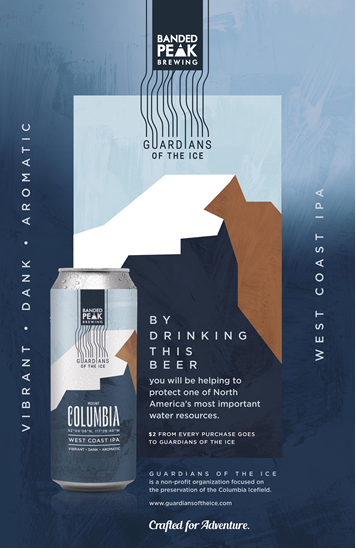 Our joint launch with Banded Peak Brewing of the Guardians of the Ice Speaker Series, with the release of the first GOTI series beer was a great success. Featured speakers extreme skier Dylan Cunningham and Banded Peak brewer Mark Zabot were entertaining and informative. Our genial host Jim Elzinga was gracious and welcoming, providing the perspective of a senior statesman and standing in for the urgent concerns that Guardians of the Ice was formed to champion.
Mount Columbia West Coast IPA is the first of the IPA series. $2 from every four-pack sold is donated to support Guardians of the Ice and their Columbia Icefield program. By drinking the GOTI series you are helping protect one of North America's most important water resources. Orders can be placed online www.bandedpeakbrewing.com , purchased at the Banded Peak Taproom, or local liquor stores across Alberta.
"Climate change is occurring in our backyard and we can literally see the effect it is having on our environment. We feel that this is an important partnership that promotes education to support and encourage climate stewardship. The Rockies are the source of so many different important aspects of all our lives from recreation to the water we drink and ultimately the beer we make. Protecting that should be a priority; definitely one we should be well educated on." Matt Berard, Founder, Banded Peak Brewing.
Event: Guardians of the Ice Speaker Series & IPA Launch Live Stream
Streamed: Friday, March 26, 2021 at 7pm MST.
Banded Peak YouTube Channel: https://www.youtube.com/channel/UCDrdJtCh8g5aEd_iYeZaq5Q

CELEBRATING OUR MAY 27, 2020 LIVE WEBINAR EVENT!
On May 27th, 2020 we enjoyed a truly inspiring and engaging live webinar with the generous participation of our four "luminaries." More than 2,000 people registered; students and teachers (and others) from across Alberta and beyond.
Check out this 7 minute video clip of Bob Sandford's moving and inspiring opening remarks. He has a poetic and positive way of expressing his broad and deep understanding of the regional and worldwide significance of climate change impacts on the Columbia Icefield and vital water supplies.
A live webinar with four luminaries of climate/ice/water science May 27, 2020, 11:00 am Mountain Time, featuring:
Bob Sandford, Chair, Water Security UN University Institute for Water and Health
Alison Criscitiello, PhD, Glaciologist, Director of the Canadian Ice Core Archive at the University of Alberta
Julie Vano, PhD, Research Director, Aspen Global Change Institute
Caroline Aubry-Wake, Global Institute for Water Security, University of Saskatchewan
Hosted by Alberta Tomorrow and Guardians of the Ice with the support of Alberta Ecotrust Foundation.
For a fuller experience of the interactive webinar, to hear from the other three scientists and their responses to questions from the students click here